Exciting Views from a Very Old Camera
After my success with the Brownie Hawkeye, I got interested in shooting with a still older camera. Preferably one that I could still put 120 roll film into without having to rewind it onto 620 spindles.
I hoped I would get the soft focus and vignetting often seen in pictures taken with "toy cameras". Plus, I'm just intrigued with the simplest concepts in photography uncluttered by any technology.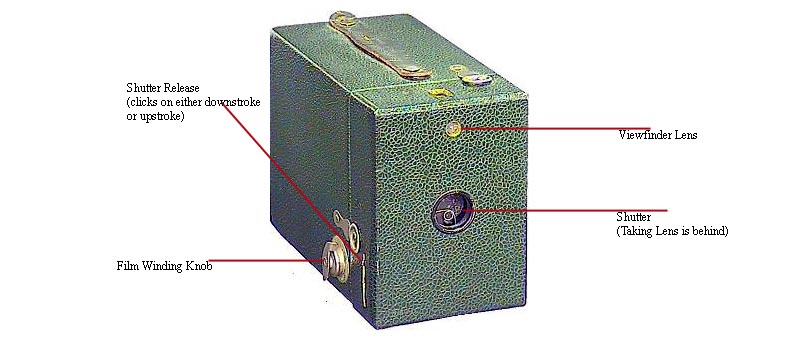 Don't get me wrong. Obviously, I love technology. (Look at the medium I'm using to communicate my thoughts.) My standard camera is the Nikon N60, and I love it's 3D matrix metering, auto focus, TTL fill in flash balancing, etc.; but I look at those as ways of assisting me in getting the result I'm visualizing.
I think it's essential that anyone wishing to become a good photographer work with a manual camera, a handheld light meter, and a book on basic photography for a while. This to get a firm understanding of exposure, depth of field, film speed, film characteristics, lighting, and.... above all ......... subject and composition.
I also was fascinated with just shooting with an old camera to feel the same way my ancestors did when they were trying to capture memories and relatives with "the Kodak". In going through old photos for my genealogy files, I'm amazed how good some of them really are.
First I researched which old Kodak cameras could use 120 roll film. Then I cruised the local antique stores; but didn't find much. They had a few old cameras; but mostly bellows models that shot 127, 116, or 620 film. So, I went to the source of all good things....EBay. There I found a plethora of old Brownies to chose from.
I bid on and purchased a "Number 2 Rainbow Brownie Model C" (see above) . It arrived a few days later. it was in good shape for a 70 year old camera made of cardboard and wood that originally sold for $2.50.
I did my usual trick and took it apart...... to clean the lenses etc. (When I first received it nothing could be seen through the viewfinder.) This was pretty simple since it is held together with small nails. I had to cut a small piece of new mirror to replace the one in the viewfinder. I put new red plastic behind the counter window, as the old plastic had turned clear to light yellow with age. I still cover that port with black electrical tape until I'm actually rolling the film; and then, do so in shade.
Next I loaded it up with Fuji Reala 100 and went out to discover the characteristics of my new toy. The camera shoots an enormous 6 X 9 cm (2 1/4 X 2 3/4 inch) negative. It gets 8 shots on a 120 roll.
Here are some of the results from the first 2 rolls.
All pictures below are "thumbnails". Click on each to view a large version of the same image.
Then, click your browser's "Back" button to return here.

The original contact prints and small enlargements look better than these JPEG's. All in all, however, the pictures are wonderful. They wont stand much enlargement without losing their sharpness, due to the lenses fixed focus at about 8 feet; and the fact, of course, that it's a 70 year old, single element, simple glass lens. Some of the blurring of the Mimosa flowers is due to wind induced motion. The shutter only moves at a fixed speed of about 1/50th of a second.
The modern color negative films with their wide exposure latitudes can yield good results from any camera used within it's intended operational limits.
I love the huge negatives. I may have to get a Fuji 670 or 690 rangefinder and shoot some huge negs with a great lens.
Click HERE to return to my main (Blinking Eye) page.
Click HERE to go to the "Great Brownie Hawkeye Experiment" page
Click HERE to get to Chuck Brown's "Brownie Camera page