Who Is EO11 Anyway ?
As I gain web prominence, (two people have found my site by accident and e-mailed me), folks may begin to wonder who I am.
On the other hand, they may not give a rip.
For those who are curious, I offer this summary that touches on the salient features of my rather mundane life history. I'll include a lot of trivial data in case someone wonders if they know me from somewhere.
In case your interested in technology, here is where all this stuff gets generated.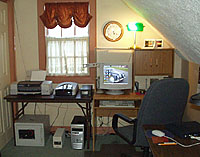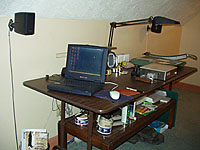 I am Charles W. Clemens III. I am the third (or the turd, as I used to say at age 3); because my father was Charles W. Clemens Jr., and his father was Charles W. Clemens Sr. If you're really interested, my whole genealogy is linked from my website.
I was born in 1946 at St. Joseph Hospital in Denver CO while my dad was serving in the air force as a B29 electronics specialist during W.W.II (the big one).
I spent birth through the first half of 2nd grade in Alexandria, IN where I attended Clark School. My dad had his first job there as an industrial designer for Aladdin Industries.
There was a brief sojourn in San Antonio, TX when my dad got recalled to active duty to serve during "the Korean conflict".
My mom and I stayed in South Bend from Aug. 1950 to April 1951 awaiting the birth of my only sibling, my sister Mary.
I went to "Mrs. Steele's Nursery School" (sounds like fun ehh), and then Kindergarten at Lincoln School during that short stay at my mom's parents' house.
We then joined Dad in San Antonio after Mary's birth in the spring of 1951. We were able to leave San Antonio and return as a family to Alexandria at the end of the summer of 1951.
In 1952, when Aladdin Industries moved to Nashville, TN, we moved to Donelson, TN (a Nashville suburb). There I attended Stanford Elementary School (now known as "The Hickman Annex") from the second half of 2nd grade through 4th grade 1952-5.
Finally, we moved to South Bend, IN in 1955. This because my dad had gotten a job with "Good Design Associates". South Bend is the defacto ancestral home of all my relatives, both maternal and fraternal. It seems all my more remote ancestors converged on that locale from their various origins in Europe.
In South Bend I first attended Madison Grade School for 5th and 6th grades 1955-7, and then Edison Grade School for 7th and 8th 1957-9. I went to John Adams High School from which I graduated in 1963.
During these formative years:
I spent the summers of 1958 through 61 ,first as a camper; and later a counselor ( specializing in handicrafts) at Camp Eberhart a YMCA camp on Corey Lake outside Three Rivers MI.
I was in the Boy Scouts and later in a rather unique Veterinary Explorer Post.
I played football very badly and wrestled poorly for Adams High.
I was very active at The First Methodist Church of South Bend. I worked at the dances at "The Meth", and went on their youth trips to Mexico in 1962 and Europe in 1964.
I worked from 1962 through 1965 at "The South Bend Hardware" where I learned invaluable lessons from the owner James Monseret (sp.), not only in hardware and repair issues, but also concerning life in general.
I did my first year of college at the South Bend extension of Indiana University in 1963-64.
I then went to Indiana University's main campus in Bloomington, IN. I was there 2 years, 1964-1966. While at IU, I pledged the SAE fraternity briefly; but mainly lived at Teeter Quadrangle.
I next attended Indiana University Medical School in Indianapolis, IN. I was on a "combined degree program" so my first year of med school counted as my last year of under grad. I therefor officially graduated from IU in 1967. Of significance is that I lived and worked at the "Marion Co. Home and Julietta Convalescence Center" during my Junior and Senior years in med school (1968-70)
It was in Indianapolis that I met my wife, then Marsha Donaldson.
I graduated from med school, got married, and started my internship at South Bend Memorial Hospital in the summer of 1970.
I got drafted into the army in 1971 while doing my internship/1st year family practice residency.
I was sent to Vietnam as a captain in the medical corp. There I first was assigned to the 101st Airborne at SERTS /Camp Evans in Sept. 1971. From there I was assigned to the 24th Evac hospital at Long Binh Post. I also did a brief turn as doc at Long Binh Jail. My last duty station in Nam was with the Special Forces at DongBaTinh. I left Vietnam in Aug. 1972.
I did my second year of required active duty at Fort Carson CO as a doc with the 4th Mechanized Inf. Then I finally got discharged in 1973.
I went to the University of Minnesota Medical School in Minneapolis, and did my second and third years of Family Practice residency at the University Hospital.
My only child, Kimberly was born at U of M hospital in 1974.
I graduated from residency and passed my Family Practice boards in 1975.
My first job was at Carle Clinic in Urbana, IL. I worked in the full practice of Family Practice. I was there from 1975 to 1990. We lived in Mahomet, IL the entire time I worked at Carle.
I now work at the Student Health Service at Southern Illinois University in Carbondale, IL. 1990 to present. I live in a nearby town, Carterville.
I realize this is simply a boring chronology; but that's exactly what it's meant to be. You may learn more about "the whole me" from my web page. This document is only meant to serve as an orientation, primarily for those who wonder: "Could that be the guy I knew from ______ ?".
If I am, drop me a line.

Chuck Clemens
Click Here to return to
my primary web page
(Blinking eye)