"What a long strange trip it's been".... J. Garcia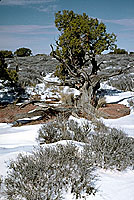 "What we'll do. We'll just load up the Z28 with camping gear, and head out to Canyonlands for a camping and photographic extravaganza." This was my suggestion to my daughter Kim as we pondered a trip together over our mutual spring breaks from S.I.U.

I of course envisioned wondrous 8 mile hikes up and down treacherous terrain, glorious gluts of freeze dried and sugar rich foods, finding and purifying surface water collections, long meaningful discussions concerning the vagaries of existence enjoyed in the solitude of desert canyons, and of course a harvest of award winning photographic images the likes of which mankind had hitherto been deprived. This is my affliction to bear. My fantasies are always in Technicolor and cinemascope.

Originally, I and my buddy Max Arens (another partially deluded throwback to either the Conquistadors or Timothy Leary) had thought up a trip to Canyonlands N.P. We began talking about it 2 or 3 years ago.

Our fervor was further kindled by reading several of Edward Abbey's works. In my case, of course, that meant every fiction and non-fiction book, every text to accompany someone else's photo essay, each poem, or laundry list I could get my hands on during 6 months of concentrated fanaticism.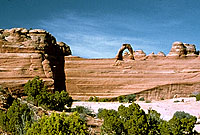 Max and I, along with two other buddies, have (among other things) done 3 one week backpacking trips through the bottom of the Grand Canyon. When originally invited to participate in those activities, I was pretty sure I would die as a result. But, since I survived the first trip; I, as expected, became hooked on the feeling of uniqueness and accomplishment. Thus I keep seeking to reignite it at any and every possible opportunity.
Max and my MOs would have been to drive around the clock stopping in to gigantic all night truck restaurants in rural Kansas. Then we'd begin backpacking and doing just about what I described above. We also would take tons of reasonably great photos (especially Max who has been known to hump a 4x5 view camera with all its necessary accouterments).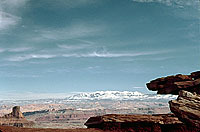 Here's what really happened.
As the time of spring break (9-13 Mar) approached, I began considering my options. I spoke to Kim about joining me on this expedition. Initially she was not too interested. However, as the stresses of her masters program in grad school accumulated, a dirty, strenuous, camping trip in the desert began to sound more pleasant than working on a thesis. Finally she said she wanted to go, and I saw this as possibly the last time we might share a spring break together. So, I altered my expectations only slightly; and it became a father and daughter round clock drive, 8 mile hike, etc.
About a month ahead of time I began to do some refreshing of my research. I determined that there were only two campgrounds in Canyonlands approachable by what looked on the map to be paved roads. This was important since a rear wheel drive sports car with a slightly downtuned Corvette engine is not exactly an off road vehicle. One campground had water. One did not. I decided we would try to stay at the one with water. From there I envisioned taking long and strenuous day hikes off into remote canyons to photograph rock formations never before seen by white men; and, possibly, doing one overnight backpack just to prove virility. One week prior to the appointed time of departure I went to the attic of my garage and gathered down enough sleeping bags, propane cylinders, climbing ropes, carabiners, head lanterns, military MRE's and other folderol to outfit an assault on the Vinson Massif, as well as fill my traditional staging area, the piano parlor. I spent the next week frantically ruminating over other things we might need, camera items I'd have to stop for in St. Louis as we passed through that "Gateway to the West", etc.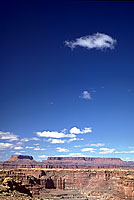 My daughter rented two winter sleeping bags so we could double bag them with our lightweight bags in case it was cold in the high desert at night in early March. She also rented her own back pack.
The evening prior to our departure I was still packing and frantic. My daughter came over to spend the night and help finalize packing. As I charged about the house getting more items for my suitcase, I honored her by entrusting her with the loading of the car (traditionally only a task entrusted to males). She merely had to try to arrange: 752 pounds of assorted camping equipment, (don't forget the 4 sleeping bags), two 5 gallon water containers, charcoal, a cooler, 2 pillows, 2 suitcases, several coats, and a partridge in a pear tree.
Everything would have fit in the little hatchback race car too; if we just could have gotten in another vehicle, and towed the Z-car behind us.
My daughter did a great job however; and, ultimately, we only had to leave one 5 gallon can behind. It did however take 3 people and a pneumatic jack to close the hatch; and, when one popped the electric trunk latch, it opened with enough force to enable a human to achieve orbital velocity.
We had been monitoring the weather reports for our route and the Moab, Utah area for a week. There was a storm system heading in from the Pacific That was due to hit the Denver area Friday with a serious amount of snow. We were leaving on Thursday. I figured we'd drive all nite and hit Denver about 6:00 AM and encounter the storm as we hit Moab around noon or so.
We did hit the road by 08:00 Thursday, our hearts singing in veritable harmony with the universe.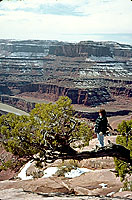 We entered St. Louis about 10:30, and found the camera shop I'd phoned the day before with only minor difficulties. (My daughter may remember it slightly differently, involving my calling upon the lord to strike down illegitimate children etc.) I'd determined they had a particular light meter I was looking for, and asked them to hold it for me. We also got Kim a polaroid filter for the used Nikon EM her Dad got her for Xmas. (What a great Dad) We were back on the interstate in under 45 minutes. All in all a very efficient stop.
Now across Missouri, past the City on an Island that Kansas City always looks like to me as I pass it on I70, and on into the tumble weeds of Kansas.
That's as far as we got that day. We stopped in Salina to eat and got caught in the magic tractor beam of the Best Western next door and all my thoughts of disappearing down the tunnel of my headlights into the "slab-of-pie-truck-stop-night" vanished.We hit the rack early, got up at 04:30, and were making ozone eating pollutants by 06:30 however.
This worked out well as it turned out. We hit Denver at noon. (A fouler city that could have been wondrous I've never seen.) This got us well up into the mountains during the warmest part of the day. We and the storm did an under-over starting at about the Eisenhower Tunnel and we descended into Glenwood Springs with fairly clear skies. We stopped briefly in Vail to fuel up, and get our picture taken with the village and slopes in the background. But, this was not a ski trip; so we were on our way. Interstate 70 through the Rockies is a beautiful drive, much superior to before it's completion. The area through Glenwood Canyon is especially impressive from an engineering standpoint, and one can see why it took 40 years to complete. The Camaro was a joy in the mountains. It's so overpowered that you can just pick a speed (the speed limit is mostly 75), set the cruise control, and the engine "don't give a shit bout dem mountains".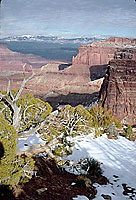 The storm slipped on over and down into Denver in the dark; and with the colder nighttime temps, it really screwed them up. The plains states, Kansas, Nebraska, Missouri, etc.? Fuggetaboudit. Nothing moved there for 2 days.
We cruised into Moab (recently become the Club Med of the Desert) about 6:00 PM. We camped that night at the Best Western as it was dark and late. We planned to go to the campground the next AM. Our luck was great in that we were in Moab just 2 weeks before "The Season" starts there. So, our room was only $36.00 with a free breakfast. Two weeks later the same room would go for $100.00 a nite (no breakfast).
This is a good time to comment on Moab.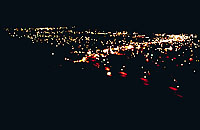 The first time I was in Moab was in 1972. My wife and I passed through on a 10 day camping trip. At that time Moab was pretty much a has been former uranium boom town. There was one fair sized grocery, one small motel, and one or two small restaurants. I remember specifically there was no store at which to buy camping gear, no variety store, no camera shop. Basically it had nothing but the basics of civilization. It was however a small outpost of civilization in the middle of nowhere, and a welcome enough sight to us then.
The next time I was in Moab was in 1987 on a camping trip with my daughter to Arches, Bryce, Zion, etc. My daughter was 13 then. We came in to Moab after 3 hot and fatiguing days in August, and were starved for some restaurant food. We went in to a small café; and, while waiting for our order, got what we have ever since referred to as "the worlds greatest cinnamon roll". It was dinner plate sized, fresh, and hot. Before she delivered it; the waitress grabbed a 4" paintbrush from a pot of butter, and painted it a golden yellow. Mouth orgasms.
In 1998 Moab has blossomed into a resort. The mountain biking, river rafting, 4 wheel adventuring, backpacking, and rock climbing enthusiasts have coalesced themselves; and discovered that Moab is strategic to Arches, Canyonlands, Capitol Reef, and, in short, about 60,000 square miles of some of the most picturesque and potentially deadly terrain in the world.
The result is, that now Moab has at least 12 big motels, dozens of restaurants offering great cuisine of all nationalities and types, a three screen movie theater, endless gift and curiosity shops, 4 bicycle shops, and luxurious retirement neighborhoods. Hardly the post uranium boom / soon to be ghost town that it had been, like it or not.
Kim and I had originally hoped to find the "worlds greatest cinnamon roll restaurant" again; but I fear it was eaten by a Travelodge.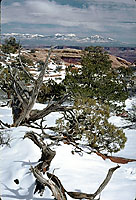 We rose on Saturday morning to about ½ inch of snow. After getting breakfast and petrol, we headed south to enter Canyonlands via the road to Squaw Flats. The highway was dry initially; but as we got further out of the Moab rift a few snowy areas of road begin to appear. Thirty five miles south of Moab we turned onto the Squaw Flats park entrance road, and discovered it had not been plowed. There were about 4 inches of loose snow on the 26 miles of narrow canyon road that we were going to need to traverse to get to the campground and the park proper. There was no way the black beast was going to be entrusted to that unknown territory. I proceeded a mere 100 yards found a place to turn around and promptly got stuck. It took 6 men and a 4x4 but we soon were the hell out of there, and limping with our proverbial tales between our legs back to Moab.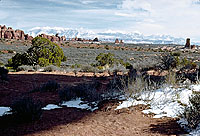 Suddenly we both feared disaster had struck. We'd traveled all this way and were wasting our time. We would not be able to view the park because we'd come at the wrong time of year with the wrong vehicle. Kim bemoaned that she should be home working on her master's thesis. I felt I was a failure at planning and execution. I would probably be asked to turn in my testicles.
We went into the Nat'l Park Service Inf. building in Moab to replan. We were told not to worry that the roads into both the Needles and Island in the Sky areas should be in good shape by the next day after some plowing and a lot of expected high altitude sunshine. We were also told we'd freeze our asses off if we tried to camp there at nite as the nighttime temps at those somewhat higher elevations (6500') were supposed to drop into the mid teens and it would be windy.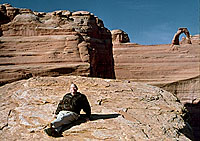 We then ended up spending the afternoon "just going to Arches". But, even though we've both been there before; it, of course, was a wonderful time. A sunshiny afternoon in God's playground can never be a disappointment. I was especially taken by the appearance of the LaSal mountains. I'd only seen them in warmer months in the past, and their snowy tresses in alpenglow were breathtaking.
That nite we had to feel guilty about having a wonderful hot meal at "Eddie McStiff's", and checking back in to sleep in dry beds in the same Best Western; instead of letting the fox inside our shirt eat our entrails rather than admit pain as we feigned sleep in an ice encrusted tent on a high mesa. Come to think of it, I'd just done precisely that with Max last Jan.
Sunday AM I decided I liked coming back to a warm bed, swallowed my pride; and reserved our room for the next 3 nites. We unloaded the pristine 462 pounds of camping gear into a corner of our room and headed out to photograph the "Island in the Sky".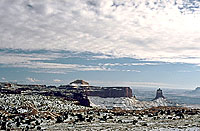 The first stop was at Dead Horse Point State Park. This is an area about 1x5 miles that is the top of a mesa that sticks up about 1500 feet from the surrounding countryside. There is a trail around its leading point edge. From here one is treated to sensational overlooks of the Colorado River and the Moab basin.