Travels With Charlie Page 2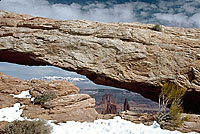 Then on to "Island in the Sky". So named because it is the forward point of the peninsula of land formed by the intersecting canyons of the Green and Colorado rivers. The mesa top is 2000 feet above the rivers below, and in one location the mesa top narrows to only a few hundred yards in width with 1000 foot sheer drops off each side. The overviews of the intersecting canyons are beyond description. That's why I'm glad this medium allows me to mix in pictures.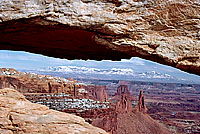 Here, also, we found and photographed "Mesa Arch": a small, but perfectly proportioned arch with spectacular backdrops.
By this time it was getting so beautiful out that we took the T-tops out of the Z-car and enjoyed the view and joy of our afternoon.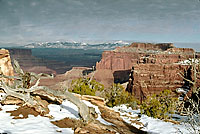 This is as good a time as any to discuss the geology of the Canyonlands area in its most simplistic terms. The area that is now the central basin of the US was once basically part of the Gulf of Mexico. Over millions of years sediments accumulated in layers at the bottom to eventually form....Guess what.....multiple layers of sedimentary rocks. Then continents collided, great beast from the firmaments tore the worlds asunder, or whatever; but North America got squeezed, and buckled in the middle, and the Rocky Mountain area got hoved up like the cracks in a overdone hot dog. The Canyonlands area is simply a relatively flat part of this violently disturbed geology that displays those layers of sedimentary rocks on edge, at angles, upright , etc. Each layer is hundreds of feet thick and there are anywhere from 2 to 10 different layers before you get down to the underlying granite. This basically created a plate-full-of-broken-glass like effect that stretched over thousands of square miles, and then got altered by the powers of erosion of thousands of small streams and several major rivers. I guess you kind of had to be there.
Kimberly put the whole thing into perspective as we approached the overlook at Grandview Point, and she put the viewfinder of the Nikon to her eye.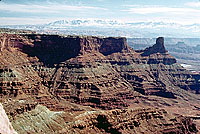 She said……….. "Too Big".
If you put a human figure into the bottom area of one of these overlook pictures they would be too small to be seen. Add the color, the variety of shape types and erosion patterns of different areas in the region, and the powdered sugar icing of snow we lucked onto; and it's a vision that calls forth the almighty.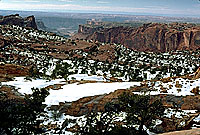 We finished the day by climbing onto Whale Rock to see Upheaval Dome and the Green River valley.
As dark came we were retreating back to the sanctuary of Moab and dinner at "Poplar Place" an old original adobe building used for many purposes through Moab's long history including general store, post office, and bar/brothel.
Monday AM we headed back down to the Needles region of the park. The area where our ill fated trip had been aborted 2 days earlier. Now the roads were clean and dry, and we sailed smoothly through the beautiful cattle ranch valley that forms the approach to Squaw Flats. Along the route, we stopped at a site named "Newspaper Rock", which is a panel of rock covered with native American petroglyphs dating back to as long ago as 400 AD
Once out at the Squaw Flats area, we took a scenic 3 mile hike on the "Slickrock Trail" and got some good shots of the needles themselves. We also got some pictures of "cryptobiotic soil"..... very sacred to the park service. We were careful not to walk on it; but we referred to it as "the black shit".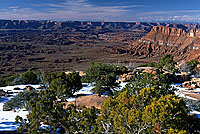 Next, we drove up to a separate entrance road to the Needles region to visit "Needles Overlook". This is really a spectacular mesa tip, with an arch of rim edge that is several hundred yards long; and offers a huge variety of perspectives on the Needles region. We were there in the late afternoon light, and the red relieves were spectacular.
Back at Moab, Kim and I discuss our plan for the next (and last) day of our adventure. I, of course, suggest taking a hike we'd seen mapped out at the Squaw Flats ranger station. A 10 mile hike in rugged terrain with a 1000 Ft descent to see "the confluence of the rivers overlook". Kim suggested that I attempt to execute avian skills from a high precipice. We went to bed without a firm decision but I schemed in my sleep.
Tuesday AM I rose early, and went down to the local Chevy dealer/4x4 rental. I rented a jeep CJ-5 from the friendly and helpful owner of the dealership. He suggested several different day trips to do and provided some simple maps.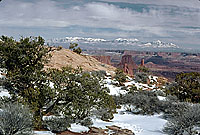 I went back to the motel and sprang the news on Kim. She was overjoyed. We gathered several topo maps, food, water, and photo equipment, and set out on our great off road adventure.
We went out the "Gemini Bridges Trail" and promptly began an ascent that made me doubt my sanity in undertaking this exploit. I've owned 2 CJ's in the past, but I'd never driven them anywhere like this. It looked and felt like something right out of a Jeep commercial. Imagine climbing a flight of spiral stairs in a vehicle, bouncing up one step at a time. But, there's no railing. Instead there is a 500 foot sheer drop off at the side of the stairs.
By controlling my speed and concentrating on technique, I was able to slow my adrenaline output; and the trip began to become enjoyable. The Jeep proved well up to the task; but I definitely would not have wanted a vehicle with a larger wheelbase or width, as it would not have been able to navigate several of the areas we traversed.
Luckily, the whole day we only encountered two other vehicles, and those were at non-problematic areas. We did encounter several bicyclists, which is always a pleasant occurrence.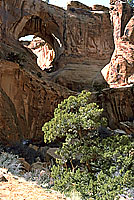 We were on our way to see "Gemini Arch" a double arch formation that was approachable both from above and below via 4WD. Primarily it was an excuse to drive the jeep into the back country.
From there we proceeded along the plateau, and accessed the road to Dead Horse Point. We refilled our water bottles, got a topo map of the area we were about to enter, and then proceeded to "The Island". From that road where it crosses "The Neck", we descended on the Shafer Trail.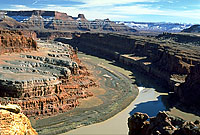 This was pretty hairy because the top 1000 feet of descent consists of a steep series of switchbacks that are protected from the sun. That meant that, at 6500 feet of elevation, there was still a fair amount of snow left over from 3 days previous. In fact they had just opened the trail that afternoon. (At least I think it was open. Actually the gate at the bottom outlet from the trail was closed. Indicating, we were later told, that the road is closed due to snow at the top.)
I locked the CJ transfer case into 4 wheel low, jammed the gear box into 3rd gear, and spiraled down the mountainside at 3000 rpm and 8 mph. Kim held on to the safety handle in front of the passenger seat, and said something about not wanting to be the little boy in "The Earthling".
Actually, the descent turned out to be uneventful; and we ended up on a plateau about 1000 feet above the Colorado River. From here we took a short trip out onto the "White Rim" via the. …guess what….White Rim Trail. This is probably one of the best known and most publicized 4WD trails in the country. It circles below Island in the Sky following first the Colorado and then the Green rivers. Doing its whole length is a multiday adventure even though it's only about 85 miles. We only proceeded about 2-3 miles as our time was limited. We did see some great overlooks of the Colorado, however; and now had ammunition with which to make Max envious.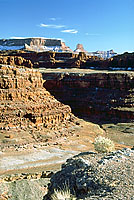 We doubled back and followed the Shafer trail toward Potash. This brought us past what is beginning to be known as "Thelma and Louise Point". This is the spot where they filmed the final scene, the one where they appear to drive the car off the cliff. Great spot for it!!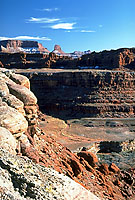 It was after this that we encountered the closed gate. This caused us to question our bearings; but, on double checking, we opened the gate, and continued after closing it behind us.
Now it was a fairly level and benign trek past "Potash".
Highway signs and maps would lead one to believe that this was a town; but, in reality, it is a mining operation for potash (potassium salts). Water is pumped into the great underground caverns of potash. The brine is pumped up, and put into evaporation ponds. Then, the recovered salts are harvested. This is not a pretty area.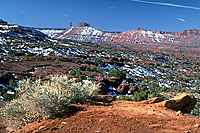 Soon, we are on paved road !! We are on U279 the Colorado Riverway. We glided alongside the river and past bluffs which, once again, sport an area intense with ancient petroglyphs. Then on in to Moab, and a mad dash to the Jeep rental before they close at 6:00.
We get there at ten till, exchange a few pleasantries and some cash, then race to try to get up to Arches before sunset.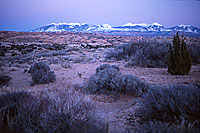 Kim had miswound a roll of film early in our trip and so had not taken some photos of the LaSal Mountains as she thought. We had vowed earlier to try and get back to re-photograph them, and this was our last nite in Utah.
We got there just 5 minutes after the alpenglow had left; but were still able to shoot them in fading twilight. A fitting conclusion to what had formed itself into the perfect trip to Canyonlands, despite all our best plans.
Then.......we came home.
"Keep on Rockin in the Free World".....Neal Young
---
At this point, I would be remiss if I did not give credit to Phillip Greenspun and his enormous web presence. It was his simplistic, but efficiently thorough discussions of web authoring and image preparation that has made it possible for me to "get it together" finally to make this web page.
---
Return to Chuck's Face Page (blinking eye)