The Old Palestine Cemetery

Palestine, Kosciusko County, Indiana

( all images in this story are 'thumbnails' )
( click on them to see a larger version )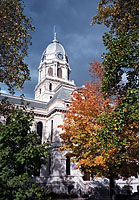 This document has been created in the hopes that it will aid researchers of genealogy, amateur and professional historians, archaeologists, and all those others who simply have an honest intellectual curiosity in finding , exploring or just having knowledge of a little lost (not for long now) cemetery in the beautiful rural farm country of northeastern Indiana.
I was at the Kosciusco County historical library and museum in Warsaw, IN on 17 Jun 2000 doing genealogy research on my paternal grandmother's family, the Millberns. (My genealogy fies can be seen at http://worldconnect.genealogy.rootsweb.com/cgi-bin/igm.cgi?db=cwciii)
Warsaw Indiana is a beautiful, smallish, midwestern town that has long served as a commercial hub for the surrounding farm country. Unlike many, it has survived and prospered for a number of reasons, not the least of which is the fact that it is beautifully situated on the banks of a small glacial lake. There is a large public park and beach on the lake about 3-4 blocks from downtown. As one drives in to town the view brings up images of a turn of the century painting of a resort town in the Adirondacks.
The library and museum is a wonderful little facility, housed in what used to be the old town jail.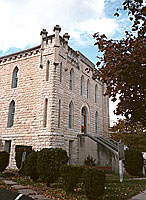 The building is the archetypical large stone facade with woundrous arched windows. The volunteers there are wonderfully helpful. I've mailed them with requests in the past, and they were very prompt and pleasant in their response. When I was actually in the building, they went out of their way to assist me.
As I worked my way through the various resources, I came to the listings of burial sites and cemeteries indexed by last name of the deceased. Several of my relatives were listed as buried in the "Palestine Cemetery". Two of my relatives, however, were listed as having been buried in the "Old Palestine Cemetery". I inquired as to where that was, and was referred to the following document.
NEXT